The Easiest, Most Powerful Staff Appreciation, Team Building, and Morale Solution.
Turbo charge job satisfaction by using our professional programs, while you take the credit.
Morale affects every area of your business. Don't leave it to chance:
Since 2004, we've been creating professional programs for IBM, Sprint, Intuit, and hundreds of other companies as non-traditional staff appreciation and team building.
We've taken the best of these programs and curated a year-long plan to keep your staff happy, laughing, and engaged… GUARANTEED.
Everything we do is through email and online, making it super simple for you. We stay in the background, while you take all the credit.
Managers instantly become staff appreciation and team building experts, because they are regularly using expert programs to not let morale dip.
Membership is only $55/month for offices up to 100 employees, with easy cancellation if you ever desire. Give us a try.
Everything begins with a contest notice and some mysterious initials. The next day we take over with emails from our "Headquarters" detailing how someone in your office has been leading a double life, and we need your team to be our eyes and ears and win this contest!
Everything runs in the background of the workweek, adding intrigue and laughter, but never interfering with normal work activities. You'll be shocked how quickly everyone joins in and how many times you hear, "Thank you, we really needed that!"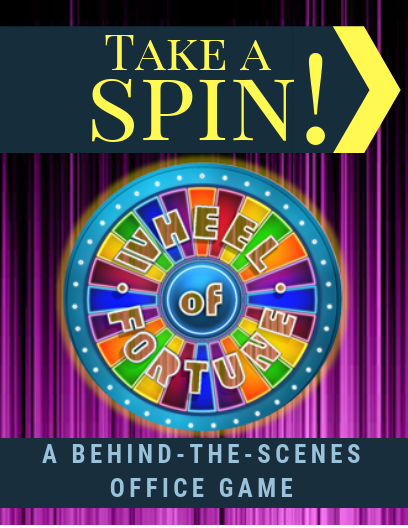 What will The wheel hold for you today?
Yes, you might find prizes or office fame, or you might find yourself in a 10 second flash mob, or discover one of the other hundred fortunes on our ever changing wheel.
Truly one of the most fun and memorable weeks you will ever have bringing everyone together. Everything is easily customized to make the fortunes specific and special just to your office. Setup takes only 10 minutes.
We provide the wheel and the structure, you'll provide the laughs and the memories.
Your office may never be the same.
Rule 1: Don't talk about Game of Games!
Rule 2: REDACTED (See Rule 1)
*Only available through subscription.
Everything is here for a reason.
Do not mistake this for a typical scavenger hunt.
Clues and items seem random, but everything, including your entire team, will come together in perfect harmony.
*Only available through subscription.
This might be the best reason to have a subscription.
Truth is, you don't need or want a big game or adventure every month, because that would be too much. Our goal is to get it just right, which is usually somewhere around every 8 to 10 weeks.
So as a general rule, in between games we provide our favorite expert tips and tricks to keep you on track. These are things that require no participation from the staff, but will have them smiling and enjoying the attention none-the-less.
Complete them all and then clear a spot on the mantel for your Manager of the Year trophy.
It happens every year around the first week of march…
The winter has dragged on. Your stressed. They're stressed. And the last thing anyone needs is another meeting or some manager trying to do "professional development" or (even worse!) "team building."
That's why that staff meeting you scheduled a few weeks ago, which you said was to go over district -wide changes to the new TPS reports, yeah, that's now cancelled…!
We have the setup and everything you need to be the hero they may not have asked for, but you're the hero they need!
Don't be the manager who does nothing. Just, don't.
No matter what your office tradition, marking the end of the year is important, but planning and knowing how to throw a good party is easier said than done.
Whether you want to keep it simple, go big off-site, stay classy, or crush it with a conga line through the parking lot, we take the best party package from the experts and put it in your hands.
Membership has its privileges, and each month is something new. Subscribe, set sail with us, and enjoy the office family and culture you've always wanted.
For a limited time, enjoy your first month for free. You are free to cancel before 30 days to pay nothing, or stay and enjoy the service for only $55/month.
No setup fee. No contract. No cancellation fee. No stress.
Know an office that could use a pick-me-up, but you're not interested in a subscription? Why not be the good person you know you are and gift a game to an office? Options include sending it anonymously, or just keeping it for your own office because you need some fun too.